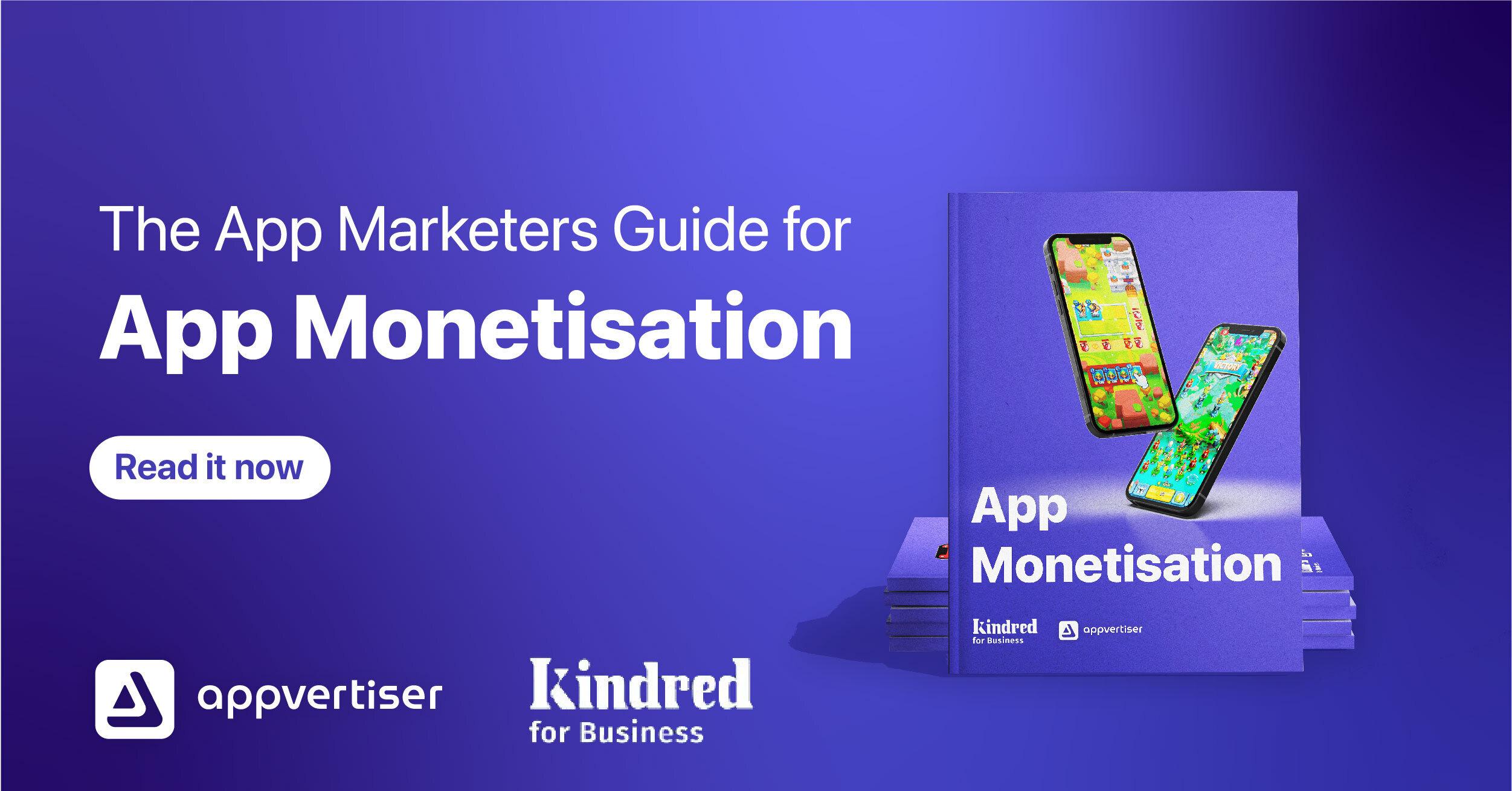 App Monetisation: Types, Trends, and Tenacity
Introduction
The app market, along with smartphones, has grown enormously since its debut. From the original 500 Apple Store apps available to the now 8.93 million mobile apps in the world today, interactivity and potential profitability of mobile apps is greater than ever. If you or your business have developed a mobile app, the prospective data your company can pull and analyze could greatly increase the value and impact of your brand or business's marketing strategies. Even better, monetizing a mobile app can be a powerful source of income for you and your business. 
What is app monetisation? How can a mobile app produce monetisation? What are the best app monetisation platforms or strategies? These are real and complex questions becoming more and more relevant for free and paid apps as the market itself continues to grow and evolve each day. 
Let's get right into it!
App Monetisation Models & Strategies
App monetisation is a process that app owners and developers apply to generate revenue from their mobile app's users. App monetisation is a great way to make profits after your growth marketing efforts have helped your app acquire new users. Cultivating and truly understanding the relationship between the app's users and developers is extremely critical for the app's success. By finding the sweet spot between the experience an app's users are looking for and what the developers of an app can provide, there is limitless success. 
The monetized revenue of an app is largely dependent on the app's daily or monthly active users. Therefore, those users should be carefully considered in every developmental decision of an app. In today's app market many mobile apps are shaped to a free download model, but downloads don't always mean monetisation.
In-App Ads

While there are several strategies that can go into curating an app's revenue, one of the most common, and most effective, are in-app ads. 
In-app ads come in a wide variety of options suited to each individual app's design. From common banner ads to native ads, app advertisements can be extremely beneficial. 
Subscription Apps

There are other ways to monetize apps regardless of traditional in-app ads, in fact, a growing trend has emerged of apps that are free to download but cost money later with a subscription. This kind of monetisation strategy is often seen in fitness apps, or with more popular apps such as Netflix, where the users pay a monthly fee to access the app's content. 
Subscription-based apps can definitely bring in revenue, especially if they're initially available for free. With this monetisation strategy, developers can more easily track revenue and tweak the apps to suit their users' wants. Additionally, apps that offer a subscription to its users are more likely to receive more commitment to and engagement with the app. Users that are paying for a specific app or content within an app are far more likely to use it regularly, thus in turn providing the developers with data to grow and maintain the number of users. 
One important aspect of subscription based monetisation in mobile apps is that the apps themselves require new content or material that proves worthy of the paid subscription from users. The most successful subscription apps are those that are considered service or productivity apps, or content based apps wherein the paid subscription is a golden ticket to all of an app's premium content or usability. 
Users love apps that serve them as well as apps that provide a facet of help or convenience in their lives in one way or another. Find the balance with the value that you're adding and how much you are charging, or how many ads you are showing.
In-App Purchases

Aside from traditional ads or paid subscriptions, some mobile apps have also increasingly utilized in-app purchases. This app monetisation strategy is strongly employed by gaming apps, where they provide benefits to users by providing a form of in-app currency. For instance, many popular gaming apps allow their users to make in-app purchases that provide them with special benefits or skills to improve their gameplay and give users an upper hand. This kind of incentive not only creates revenue for the app, but also boosts retention rates among users or subscribers. 
Transactional Apps

An up-and-coming variety of mobile apps, transactional apps are usually a financial or in-voicing app that offer some form of currency conversion. They may also provide users with an option to buy or share trades, such as the popular app, Bitcoin. By capitalizing on other markets these apps are able to generate cash flow every time a user makes a transaction. These apps in turn are able to produce more accurate scalability, which provides the ability to accurately predict an app's revenue and patterns in its monthly and/or daily active users.
One of the most widely-used transactional apps on the market today, Cash App boasts 44 million users worldwide.
Mobile Marketing Automation

Employing a mobile marketing automation campaign for your app is a great way to reach users outside of the app's platform itself. This can look like email-lists, push notifications, or even in-app messaging with its own inbox. This kind of marketing automation provides a more personalized campaign for the users without involving too much direct communication. By utilizing this larger scale of communication and engagement for your app, you can greatly increase the app's user retention rates and overall return on investment (ROI). 
Sponsorships & Affiliate Programs

Sponsorships can be a great strategy for promoting your app's visibility and overall reach. By seeking out prospective investors or other app developers with an offer of free mobile marketing via your app, there is potential to receive free advertising and therefore increase downloads through said investor and their business, or a fellow developer's app. 
Similarly, many of the tech tycoons on the markets such as Google, Apple, and Amazon, among other businesses, can offer incentivizing affiliate programs. These programs include your app's promotion of another app, usually one that is hot on the market, and in return you receive easy commissions. 
Enticing Strategies, but at What Cost?
Before launching an app or its prospective monetisation campaign, it's important to consider the cost of listing the app on the markets themselves. While getting an app on a market is fairly easy, the growth and competence of those markets makes it significantly harder for an app to be shown. With several different markets now available, it is inherent that your app is optimized and shown across various marketplaces, but this also includes fees across each platform. 
According to the Apple App store, developers earning up to $1 million per year will only have to pay a 15% commission on in-app purchases, as opposed to the standard 30% commission.
In the Google Play Store, the service fee  has been reduced from 30% to 15% or the first $1 million of revenue app developers earn using the Play billing system each year. In addition, Google Play will impose a 30% cut of every dollar developers produce through Google Play following the first $1 million in a year. 
Similarly, the Amazon App Store receives a 30% commission off of each paid app download and in-app purchases, while video apps are subject to a 20% commission. For developers who produce less than $1 million in app store revenue per a given year, Amazon offers a 20% commission rate and 10% in promotional credits towards Amazon Web Services. 
The Microsoft Store offers a 15% commission rate for each paid app download and in-app purchases. In addition, there is a 30% commission rate on games, apps, and in-app purchases via Xbox, and 12% commission on PC games. 
So Which Monetisation Strategy is Best?
Taking into consideration all of the work and planning behind all of these strategies and marketing campaigns, the best one for your app depends heavily on the app itself and what your users want or will want from it. By employing the right strategies alongside relevant KPIs, your app could be the next #1 across all marketplaces. With a strong sense of your user and app relationship and a cohesive, well planned marketing campaign, the endless monetisation possibilities are all at your fingertips!
Tips for earning more from your apps:
This blog has been made possible thanks to Kindred.
Have you heard about Kindred? 
Kindred provides an alternative app monetisation solution. The Kindred SDK enables app developers to earn a new incremental revenue stream from their app ($4 per MAU) without cannibalizing existing ad or IAP revenues. Their unique 'external app' monetisation technology generates revenue outside of your app as your players shop online using their mobile browser. Try it for free now at their website!
If you want to learn more about marketing your own mobile game or app today, Appvertiser has got you covered! Visit us for your consultation today.