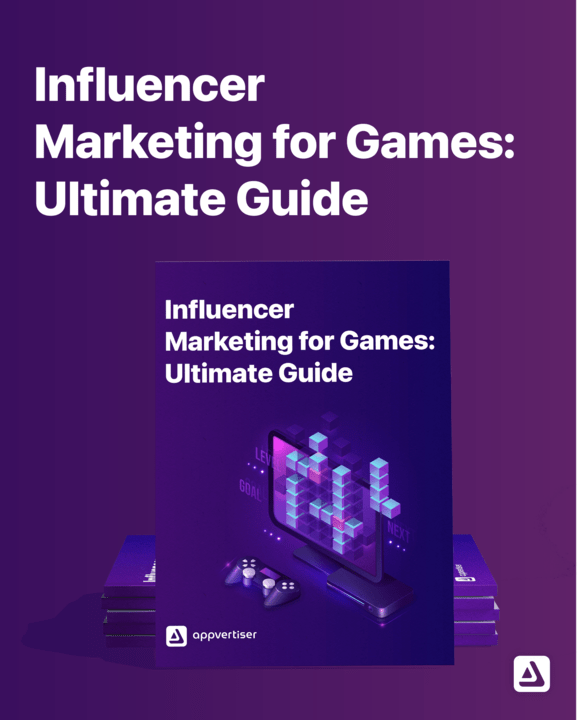 Influencer Marketing for Games: Ultimate Guide
Introduction
Influencers come in all shapes and sizes and can service any market imaginable. From acquiring downloads to promoting in-app purchases, influencers are your one-stop shop for not only gaining a mobile gaming audience but also increasing data-driven performance and growth metrics. With the rise of social media apps in the 21st century such as Facebook, Reddit, Twitter, Instagram, and TikTok, influencers are leaders in their markets providing an entryway for game developers to utilize their following to market their mobile games. 
What is an influencer? An influencer is a person who is able to generate interest in something (such as a consumer product) by posting about it on social media. 
How many people actually use social media platforms? Quite a lot actually! In 2021, there were 4.48 billion social media users globally. That's over half of the world's total population size at 7.7 billion. Out of those 4.48 billion users, 99% of them accessed these social media platforms through their mobile devices. 
Why should I spend my precious marketing budget on influencers? While, at first glance, influencers may not seem worth your marketing budget when compared to other marketing and advertising methods, stick around and see that they are well worth your time and money! 
What is Influencer Marketing? 
Influencer marketing is the process of promoting and selling products or services through individuals capable of driving action from your target audience. While this type of marketing may seem more unfamiliar than traditional methods, you can think about it as a paid version of word-of-mouth marketing. If you are having doubts about the ROI that influencers can provide, then have no fear! For every $1 you spend on an influencer, you will make around $5.20. 
What sets influencer marketing apart from other methods is trust. Let's say that your target market for your mobile game is consumers from the ages of 18 to 34. If so, you're in luck! Approximately 91% of consumers in this age range are trusting of online reviews and will treat them like recommendations from their friends and family. 
Another important factor that you can capitalize on when hiring an influencer is a phenomenon known as parasocial relationships. Many social media users who regularly interact with influencers will exhibit feelings of personal connection between themselves and the selected influencer. Whether cognizant or not of this action, the words and actions of an influencer will affect how they feel about a certain subject and can be swayed in a positive or negative direction. So long as the influencer speaks positively about your mobile game, then you can brand-wise and profitability-wise benefit from this effect. 
Why is Traditional Marketing Not Enough Anymore? 
With the rise of streaming services such as Hulu, Twitch, YouTube, and Disney+ and social media sites such as Instagram, Twitter, and Snapchat, traditional marketing methods are falling farther and farther behind. For example, consumers aged between 18 to 29 greatly prefer streaming services over cable TV. Magazines, radio ads, billboards, and brochures are antiquated methods when advertising to members of the iPad Generation and beyond. 
A study in 2019 revealed that people in the U.S. during the 24-hour day will spend approximately 3 hours and 43 minutes on their smartphones which is eight minutes more than the time spent watching TV. Not so surprisingly, 53% of mobile gamers are reported to actively playing games on their smartphones while watching TV, especially during TV ad breaks. In that case, mobile marketing strategies may prove more effective than traditional methods. 
User Acquisition: How Data Drives Performance & Growth
Influencer marketing exists under the umbrella of User Acquisition strategies. To measure performance and growth metrics, data is king. From Paid Search to Social Ads to Influencer Marketing, User Acquisition strategies provide a comprehensive route for mobile game developers to successfully market their gaming apps. 
How to Build a Strong Media Mix
Media Mix Modelling is an analysis technique that allows marketers to measure the impact of their marketing and advertising campaigns to determine how various elements contribute to their goal, which is often to drive conversions.
Here are some effective modeling tools to use for your media mix: 
Facebook Marketing

Instagram Ads

TikTok Ads

Google (UAC) Ads

Native Advertising

Reddit Ads 

YouTube Ads

Snapchat Ads 

Pinterest Ads 

Twitter Ads
Apple Search Ads

Google Search Ads
Youappi

inMobi
Tapjoy

Fyber

Adaction
User Acquisition Re-engagement
Adikteev

Remerge
Advanced Analytics & UA Dashboards
Benefits of Using a User Acquisition Strategy for Mobile Games
Increasing Real Income

Growing a Consumer Base

Stimulating App Downloads 

Developing Data-Driven Metrics

Calculating

CAC, CLTV, & Churn Rate

Gaining a Competitive Advantage over Competitors
Appvertiser Influencer Marketing Methodology for Mobile Games: 
In this article, we have explained the significance of influencer marketing. In this section, we will provide a step-by-step breakdown of how our company sources influencers and delivers data-driven metrics to our clients. Additionally, we will show you surefire ways that you can create a long-lasting connection with an influencer to maximize efficiency and profitability. 
Step One: Research the Audience 
Before starting the search process, our company researches the target audience that our client wants to attract with his or her mobile game. Demographics play a vital role in reaching the right audience. Depending on the genre of the game, the demographics will greatly change, so we need to know this information in advance prior to picking an influencer. 
Demographics are not solely limited to the individual level, as mobile gaming has reached the country and global level contributing to the success of many mobile games. For example, China currently has the largest population of mobile gamers, which is estimated to be 563.7 million in 2021. So, if your company wants to break into a foreign market, you will need to advertise your game appropriately to appeal to a Chinese audience. 
Step Two: Create a Messaging Strategy  
Messaging is key to marketing. In order to drive the audience to action, our company creates a messaging strategy for each influencer based on our prior research of the target audience. Words not only have meaning, but they have power. While choosing a well-spoken influencer is equally important, the message delivered can be the tipping point of whether an audience member chooses to download the mobile game or not. 
Step Three: Source an Influencer
While there are many ways in which you can source an influencer for your mobile game, our company uses third-party agencies such as Insense, Billo, TikTok's Creator Marketplace, Instagram, and YouTube, to aggregate a comprehensive list of potential influencers for our client company. Some of the considerations when choosing an influencer includes his or her following size, content type, demographic range, and personal presence on the given social media platform. 
For example, if your mobile game is an open-world RPG game like Genshin Impact, then you might want to find an influencer who not only meets the targeted age demographic for the game but also covers mobile games in the same genre such as Tower of Fantasy. This way, the audience that the influencer reaches aligns with the intended target audience for your game. 
Step Four: Hire an Influencer
When our company has a solid idea of the influencer we want to hire, we act as representatives for our client company and reach out to him or her via the third-party site paying him or her according to the agreed-upon terms and conditions. Regardless of the content created, we ask for a draft and final version of the contracted content. Keep in mind that rates will vary depending on an influencer's tier (e.g., micro, macro, and mega), the type of content they are asked to produce, and the time it takes to deliver it.
Let's break down the three tiers of influencers: 
Micro-influencers

:

A social media influencer who has an audience within the follower range of 2,000 followers up to about 50,000 followers on a particular social media channel, usually comprised of a focused passion, topic, or niche market.

Macro-influencers

:

A social media influencer with a large audience, typically between 100,000 and 1 million followers

. 
Step Five: Create a Campaign Launch
After we hire the influencer, we create a campaign launch plan which is an efficient and well-integrated roadmap that demonstrates a business strategic initiative, and specific goal in marketing brands, products, and services of a company or organization. Depending on the scope of the project and contract term, the campaign launch may vary; however, this process is necessary to create a strong foundation to follow during the allotted timeframe. 
Step Six: Record the Results 
Based on the influencers we use in our UA campaigns, we can directly see how they perform against our other advertisement types with a one-to-one comparison. Key data that we pull from influencer marketing include the return on advertisement spends per influencer/creative, the number of clicks on links with UTMs, the number of promo codes redeemed, the feedback from in-app surveys, and the large volume of organic uplifts acquired. 
As stated previously, data is key! With a proficient influencer and an efficient data system, influencer marketing reaches a wider audience than you can even imagine. Each click, download, and upload can be tracked and used to determine how these influencers drive the data necessary to make your mobile game a success! 
Step Seven: Create a Connection
Here are some helpful tips that will serve you in the long run when choosing and creating connections with past, present, and future influencers:
Find the right influencer for your brand. Focus on quality over quantity when it comes to content and when it comes to choosing someone to represent your brand or game. 

Provide the influencer with key points to touch on in the video whether it be a playthrough or review. 

Let the influencer have the freedom to create content based on his or her style. More times than not, the influencer's followers will be more receptive to an advertisement if it is natural rather than forced. 

Provide the influencer with game codes or free trials that will allow him or her to experiment and explore the game to maximize exposure and interest. 

Don't overspend on your budget. Keep in mind that micro-influencers and macro-influencers might have similar results in terms of content and quality and will cost half the price of a mega-influencer with over 1+ million followers. 
The Merging of Minds: Appvertiser & Upland
Do these steps actually work? Check out our collaboration with Upland, the only Virtual Property Game Built on the EOS Blockchain that allows players to trade virtual property for real money. When working with Upland to promote their mobile game, we utilized TikTok, one of the most popular video-sharing platforms on the planet! 
Let's hear what Darren Dennison, Sr. Growth Marketing Manager at Appvertiser has to say about the use of UGC and ICG videos: "We weren't running any UGC and ICG videos when we started promoting and marketing Upland on TikTok. After a month of poor performance, we had to turn off the channel. However, once we implemented UGC and ICG videos onto a new channel, we saw an exponential increase in ROAS. TikTok quickly became our top-performing network thanks to the efforts we saw during our collaboration with Upland." 
Next Steps…
After reading this guide, are you ready to take your first step into the world of influencer marketing? If so, don't hesitate to shoot us an email at grow@appvertiser.io, or send us a message directly on our site at Contact Us – Appvertiser! We are always happy to help and look forward to assisting you in your mobile marketing journey.