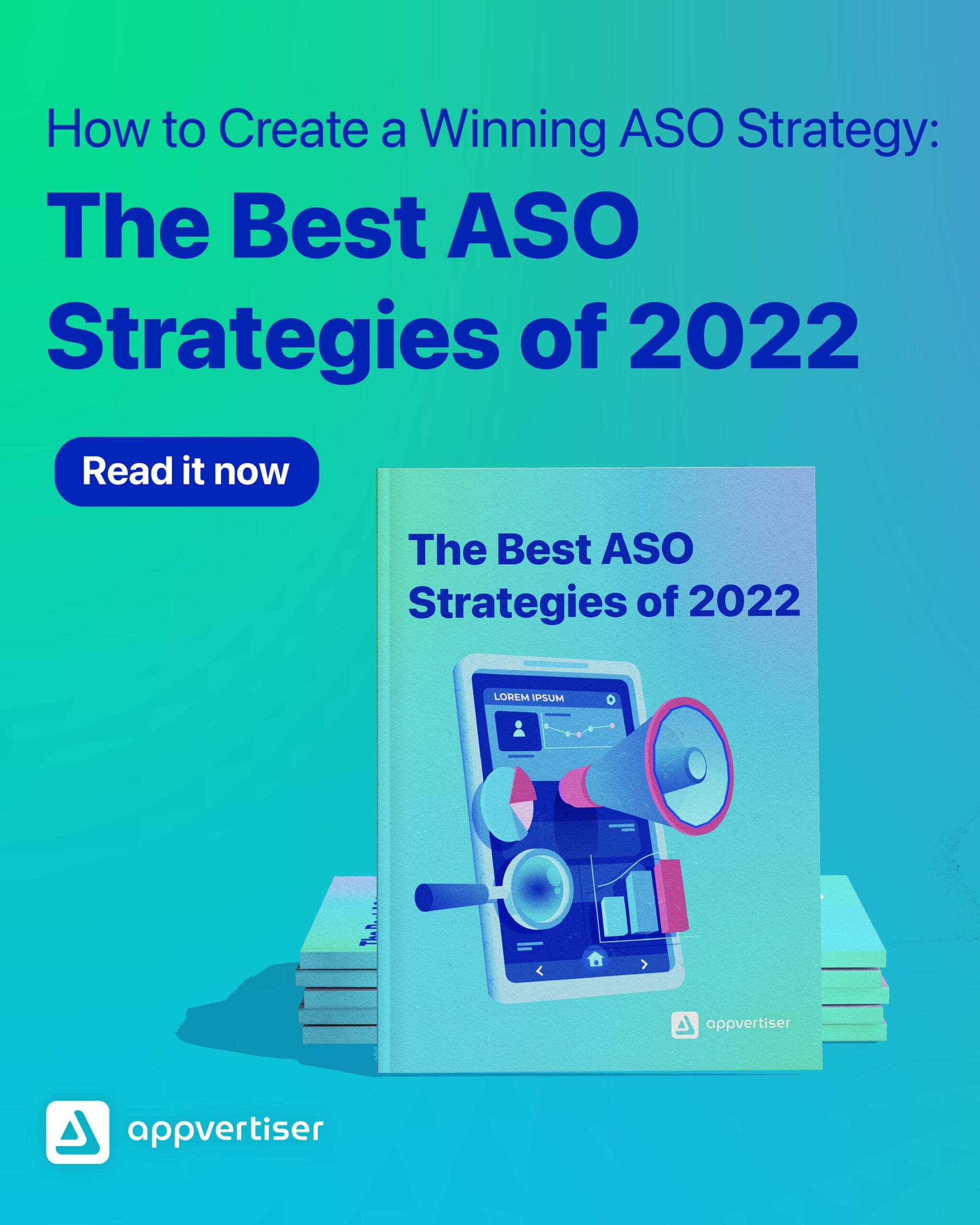 How to Create a Winning ASO Strategy: The Best ASO Strategies of 2022

Introduction
App store optimization, or ASO, is the process of optimizing a mobile game or app for increased visibility on Google Play or the iOS App Store. It is integral for any effective organic app store-oriented mobile marketing campaign. Various off-metadata and on-metadata factors influence your mobile app or game's user acquisition rate. Further, many app store ranking factors, including your app's name, title and subtitle, keywords, backlinks, downloads, description, and ratings, can help your app become more visible.
This leads us to the elephant in the room: why is ASO important? Well, a staggering 65% of all app downloads come from app store searches. As such, without implementing proper ASO strategies, it's rather difficult to see even the tiniest boost in app visibility, let alone an iota of an increase in your organic downloads. 
The benefits of app store optimization are vast. To illustrate, ASO allows your game or app to stand out and become more visible to your target audience on app stores, see a boost in organic downloads, increase app revenue, and reach users from around the world. Alongside getting a high rank on app store searches, "ASO also focuses on click-through rate (CTR)," a key component to your app's success.
While many strategies and tools for app store optimization exist, finding the right ones can be quite the challenge. Fear not, below we have compiled a list of the best app store optimization techniques and factors for your ASO strategy development yet.
Without further ado, let's dive right in!
1. Conduct Market Research
One of the most important ASO tactics is market and audience research. After all, you have to understand who it is you're targeting with your mobile app growth marketing efforts. You also have to develop an understanding of your app category's landscape based on your competitors.
With over 5.4 million aggregate apps on both the Google Play Store and iOS App Store combined, there are an abundance of competitors that your mobile game or app has to stand out against. In order to differentiate your app from competitors, you must first carry out effective marketing research. While you may want to quickly learn how to conduct market research right now, fret not! We've got you covered.
So, how do you perform market research? 
To begin, you must discover and identify your competitors while also using their apps for example purposes, pinpoint your own app's strengths and weaknesses as well as strategies to overcome them, and discover the best keywords related to your strengths.
Effective marketing research will help you "know about your app category and other competing apps." Furthermore, as no ASO strategy can be deemed effective without comprehensive market analysis done beforehand, research plays a critical role in your app's overall performance. 
Various noteworthy market research tools exist, such as Statista, Spyfu, and Typeform to boot.

2. Keyword Research & Optimization
App store keyword optimization plays an integral role in improving your mobile app's presence on Google Play or the iOS App Store. How well your keywords are optimized is highly contingent on search trends among your target audience. That's where keyword optimization comes into play. Keyword optimization is an on-metadata factor, meaning it is an element of your mobile app listing that you possess personal control over, and it is vital.
Notwithstanding this, you are probably wondering how you can optimize keywords for your mobile app. Well, it's easier than you think. Noteworthy keyword optimization strategies include finding strong, relevant keywords through various app store optimization tools, narrowing down, utilizing the least competitive keywords, using special KPIs to gauge your performance, and avoiding repetition.
Before finding the right keywords for your game, carrying out research using ASO keyword tools like Mobile Action can advantageously help you streamline the overall mobile marketing process.

3. Title & Subtitle Optimization
Your title is one of the most important components to your overall ASO strategies. In fact, the first impression you make on your target audience is with your mobile app's title. That's why it is so important to have not only a title that is attention-grabbing, but one that also features popular keywords.
So, how do you make a good mobile app title?
To start, your title and subtitle both have to be optimized. There are a few key techniques that can help you optimize your mobile app title. First off, you should begin by including an optimized keyword in your title, as doing so can increase its search ranking by over 10%. For example, if your audience is searching for a music app, then you could include 'music' as a part of your title or subtitle. Additionally, you should come up with a cool app name idea for your app that is simple, memorable, and unique. An app name generator can help you greatly with your efforts in this area. Moving on, important tactics to consider in coming up with a good app name includes keeping your name under 30 characters and avoiding special characters.
With all this said, don't forget to add a striking subtitle featuring a call-to-action (CTA) prompt, as this will help you grab your audience's attention with ease. 
Dublin-based Playrix's hit mobile puzzle game, Fishdom, boasts an effective CTA subtitle that instantly turns views into downloads in no time.

4. Leverage Backlinks
What are backlinks? 
Generally, backlinks are links that lead from one website to another. 
Oftentimes, they are associated with search engine optimization (SEO). However, the truth about backlinks is that they are able to convert web traffic into mobile app downloads. It's true! Websites or social media platforms can host backlinks that lead visitors from their page directly to your app. Backlinks play an integral role in all successful ASO campaigns, especially if they are high-quality, relevant, and shown on trustworthy sites. 
While SEO backlinks work much like their ASO counterparts, there remains one key difference between the two: SEO backlinks focus on increasing a webpage's visibility, whereas ASO backlinks focus on boosting a mobile game's visibility on app stores. 
The most common way to acquire backlinks is by contacting bloggers to promote your app, wherein they will place links to your mobile game or app on their webpages. Another way to receive backlinks leading to your app's page is through social media. You can easily create social media accounts on all relevant platforms and post links to your app for free. You can also contact larger accounts (i.e., influencers) to promote your app through their own social media pages. The remaining approaches are through public relations (PR), event sponsoring, and guest posting to name a few.

5. Strive for Positive Ratings & Reviews
The first thing people spot when viewing a particular app is its ratings. The difference in download rates between an app with a two-star rating and another with a five-star rating can be night and day. That's why it's unsurprising to hear that striving for a five-star rating is an imperative for your ASO efforts. 
So, how do you secure positive ratings for your app?
The truth is, one of the best ways for you to receive positive ratings is to make your app worthwhile or valuable to users. In this sense, 'worthwhile' would mean that your app offers value in one form or another, whether it's through entertainment, practicality, or problem-solving. An app should be sleek, free of bugs, fully-functional, and enjoyable to use. Not all apps can accomplish this, but the ones that do, do it well.
Notwithstanding all this, it is important to tailor your review and rating practices in accordance with each app store. 
BeReal, a newly-popular social media platform, flaunts an impressive 4.8 star rating on the iOS App Store.

6. Use High-Quality Screenshots & Preview Videos
Creatives, like visual-oriented screenshots and preview videos, are some of the most important factors in attracting your target audience to your game or app. High-quality videos as well as screenshots greatly impact your app's success. In fact, most app store viewers will decide if they want to download your app within the first 6 seconds of having landed on your page. Therefore, the first impression your app makes on your target audience will influence their split-second decision to download. That's why it is so important to use eye-catching screenshots and videos featuring the best parts about your app or game, especially on your First Impression Frame, which is where users first gain an initial idea of your app. 
All in all, screenshots have to be striking, while videos have to be concise, attention-grabbing, and dynamic. Both have to convey much in as little time as possible. Without such creatives, converting viewers into downloads can become challenging to say the least.
Stardew Valley, a "hit farm RPG," exemplifies what it means to provide high-quality screenshots on the App Store.

7. Create a Visually Pleasing Icon
Most of the time that goes to ASO strategy development should undeniably be spent creating your icon. After all, your app's logo will represent all of the work you've put into your software. Moreover, icon design directly affects your app's download rate! 
Much like high-quality screenshots, a sleek app logo will aid you converting app store traffic into downloads with ease. 
How do you design a pleasing app icon? In designing your app's logo, there are several key steps you can follow. 
First, remember these three words: minimalism, minimalism, minimalism. A pleasing app icon should be kept simple, meaning it avoids superfluous colors or images that could ruin the soi-disant canvas.
Secondly, make sure to avoid words. It may be tempting to jot down your app's name as a logo idea. However, as a general rule, a good app icon generally features your app's initials or an abstract shape or symbol design, instead. Your app should follow this, too! 
Finally, test the waters by deploying three or four different versions of your logo to find out which works best with your audience. While it's probably enticing to design one logo and then call it quits, doing so could actually hinder your app's ASO performance. As a result, you must avoid such practice and, instead, opt for A/B testing of different versions of your logo, gauging which results in the most favorable results among your target audience.
To better understand how to make a great app logo, please click here for more details. 
World-renowned vacation rental company, Airbnb, tauts an aesthetically-pleasing logo that has captured the hearts of many over the years.

8. Employ Apple Search Ads (ASA)
Apple Search Ads (ASA) are advertisements displayed at the top of the iOS App Store search results page. You likely see these ads frequently when searching for specific mobile apps or games on your iOS device. 
While paid, ASA can be especially effective in reaching your target audience. This is because ASA places your app at the top of an App Store search result for a specific keyword your audience searches for. When they notice your app at the top, your target audience becomes more inclined to not only view your app, but to also tap the download button. Due to their high efficacy, the conversion rate of ASA reached a staggering 60% in early 2021.
If you're familiar with search engine marketing (SEM), think of ASA as paid ads (i.e., PPC ads) that are displayed at the top of Google SERPs. In this same regard, because the two tools function rather similarly, ASA can be likened to a type of Google Ads made for the App Store.
ASO and ASA can be applied simultaneously when executing your mobile marketing strategies, as the same keywords are searched for by users who discover your app.
All in all, using Apple Search Ads is an excellent way for you to easily acquire new users for your iOS mobile app or game.

There are so many factors to consider in executing your ASO efforts. While some are more important than others, one thing is for certain: you have to use more than one in order to successfully convert users into downloaders. While ASO plays a critical role in user acquisition, your overall app marketing efforts is what ultimately counts.
Do you strive for an increase in your app's user acquisition rate, personalized ASO strategies, reliable growth marketing consulting, and one-of-a-kind creative production quality? 
You've come to the right place! Visit Appvertiser today for more details.