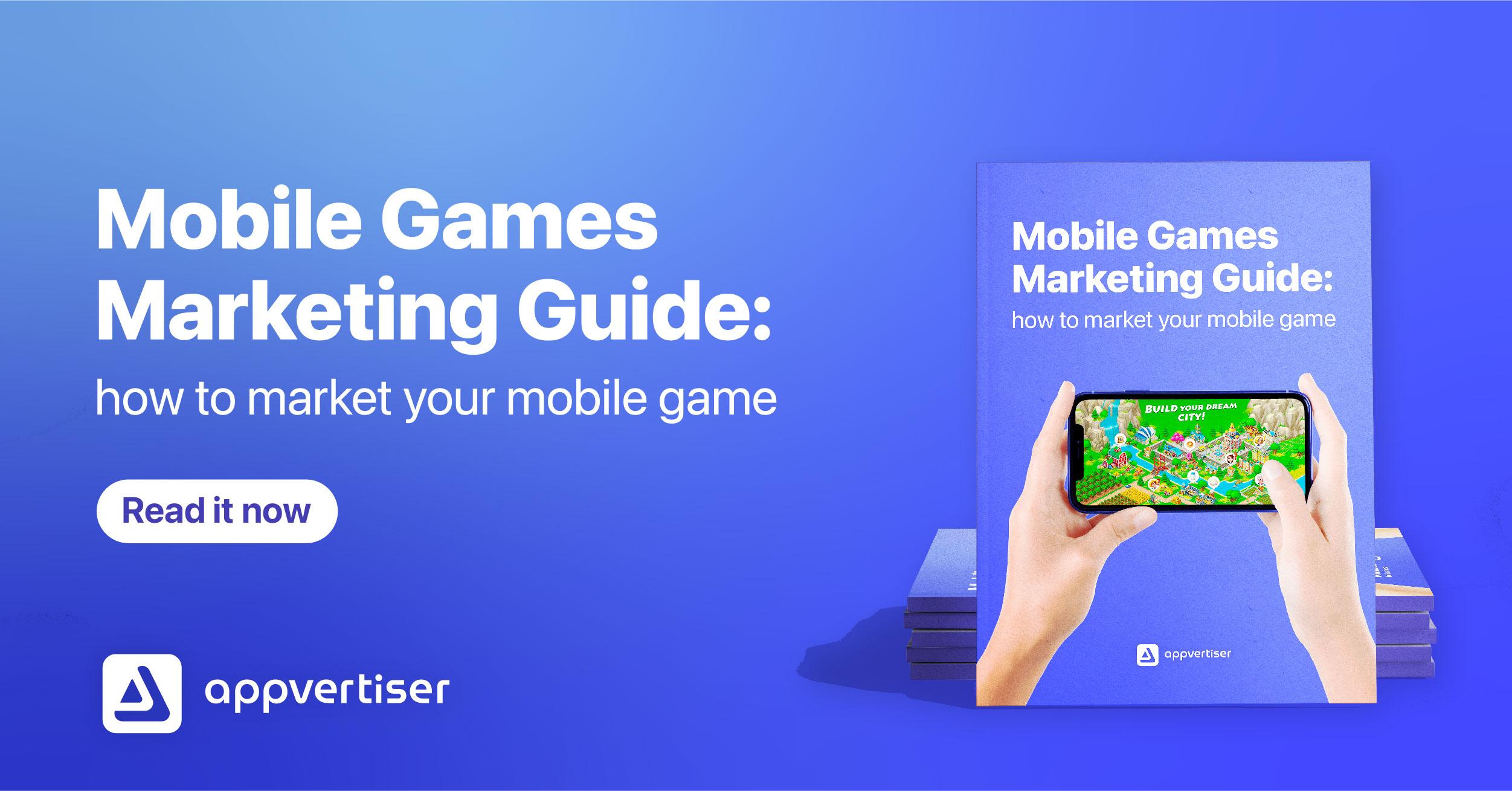 Mobile Games Marketing Guide: how to market your mobile game
Introduction
Mobile games have existed for a long time now. In fact, the first-ever mobile game offered to the average consumer was developed in 1994 as a minimalist Tetris puzzle game for the Hagenuk MT-2000 phone device. Despite its sheer simplicity, the app's existence rewrote history, transforming mobile games into what they are today: a world-renowned portable entertainment medium.
A $164 million industry, it now boasts an astonishing 2.2 billion mobile gamers worldwide. With such a huge market, it's unsurprising that mobile game growth marketing has gradually become an imperative for developers who aim to reach wider audiences for their apps.
Notwithstanding this, all mobile app developers must employ a wide variety of mobile marketing strategies built to bolster consumer awareness of their offered games. Marketing your own mobile game or app is vital in improving your user acquisition rate — it's undeniable! Your mobile game marketing campaign thereby plays an integral role in getting your mobile game's name out there. One mobile marketing strategy is not enough, however. Instead, multiple mobile marketing strategies must be utilized simultaneously for the utmost benefit while special KPIs are used to gauge their performance.
In executing a successful mobile growth marketing campaign, you must consider both paid and organic efforts. You must additionally gain insight into your target audience's motivations in addition to their archetypes.
Below, we have listed the top mobile game marketing strategies of 2022.
Mobile Game ASO (App Store Optimization)
Mobile Game Testing
Creative Production
Google Ads – Universal App Campaigns & Display Network
Influencers
Landing Page
Cross-promotion
Let's jump into it:
1. Mobile Game ASO (App Store Optimization)
So, what is app store optimization? 
App store optimization (ASO) is similar to search engine optimization (SEO). Unlike SEO, which focuses on websites, ASO's key purpose is to help enhance the visibility of mobile games on app stores, garner organic downloads, bolster user acquisition, and increase conversion rates.
There are a plethora of advantages you can capitalize on from leveraging app store optimization. To illustrate, through effective ASO campaigns, you may see an increase in app revenue, the newfound ability to reach and gain impressions from users around the world, the ability to stand out among competing apps, and more downloads to boot. "The main app store elements are game title, icon, description, keywords, screenshots, and an app promo video."
With all this said, how can you go about app store optimization? 
App store optimization tools as well as app store optimization services, such as Appvertiser, can help you boost your game's downloads, improve visibility to target audiences, monitor your performance, and discover new opportunities for growth.
2. Mobile Game Testing
Testing is a requirement for all successful mobile games and apps. After all, without proper testing beforehand, how could you tell if your game is ready to hit the stores? While the main purpose of testing apps is to pinpoint bugs that require removal, it gets a bit more complicated when you delve deeper into the overall process. 
What are some important mobile game testing techniques? There is the testing of a game's functionality, compatibility across varying devices, performance, localization, regression (i.e., making sure functionality is at a maximum after updates), and how it behaves under load as well as what its limits are.
Notwithstanding this, there are two types of mobile game testing. The first of these is black-box testing, which focuses chiefly on the user interface (UI), user experience (UX), and other visual aspects of the game (e.g., special effects, gameplay, etc.). Then, there is white-box testing. White-box testing concentrates specifically on the database, third-party, social media, and graphical components of the game. 
Kobiton is a great example of an automated marketing tool for app and game testing that is easy-to-use, provides access to actual devices, and gives a real-time look into logs.
3. Creative Production
After recognizing who your target audience is, you can move on to mobile creative production.
Creative production is, in essence, the process of creating ad creatives that will allow you to market your mobile game effectively.
Creatives are essentially visual-oriented ads for your mobile game or app. They come in forms of images and ads that are sure to stand out to today's audience with roughly 65% comprising visual learners. The more attention-grabbing, the better! That's why a dynamic ad creative is key to winning over your audience. There are content, commerce, and concept ads.
There are dozens of mobile creative best practices that should ideally be adhered to in moving forward with your mobile growth marketing strategy.
If you would like to learn more about creative production and its benefits for your app, feel free to visit Appvertiser.co for more details!
4. Google Ads – Universal App Campaigns & Display Network
Offered by the eminent Silicon Valley-based tech company, Google, Google Ads (formerly AdWords) is an advertising platform focused on paid display, product, and video ads. 
You can leverage this tool to create mobile pay-per-click (PPC) ads for your games. PPC marketing is crucial for your mobile game's ad campaign, as it can lead to higher conversion rates not to mention more downloads and increased awareness.
In using Google Ads, your mobile game's advertisements may appear on Google Play search results, Google SERPs (search engine result pages), YouTube, and various websites.
The benefits of Google Ads are quite astounding as well. The amount of money you allot to your mobile Ads campaign can be flexible, meaning you can align it precisely with your budget.
Shutterfly, an image sharing company, has carried out a highly effective Google Ads-powered mobile marketing campaign in the past that has led to a 60% rise in mobile conversions.
5. Influencer
As with any marketing effort, influencers play a vital role in raising awareness of your product. Influencers are particularly powerful for advertising purposes, as they can bring attention to your game in front of immensely large audiences composed of potentially millions. 
What is influencer marketing? 
On almost every social media platform (e.g., Instagram, Twitter, Twitch, YouTube, TikTok, etc.), influencers exist. Influencers are social media users who possess the power to influence, or sway over, their audience. Influencers' ability to influence is contingent on the actual size of their fanbase. The more followers they have, the bigger the impact they will have on peoples' opinions. That's why influencer marketing — the act of getting influencers to market your product or service to their following — is an imperative when attempting to get your game's name out there. This is especially true in today's social media-focused day and age.
So, how powerful is influencer marketing? 
Influencer marketing is undeniably one of the most effective marketing strategies. In fact, nearly 60% of marketers have asserted that influencer marketing was the most effective marketing trend of 2021.
With all this said, the right influencer marketing strategy is simply a must-have for your mobile game marketing endeavors.

An excellent example of a mobile game studio that has successfully leveraged such marketing is the play to earn crypto property trading game, Upland. Throughout its marketing efforts, Upland's marketing team has successfully enlisted the help of popular TikTok influencers like Mike Jost, Sam Van Fossen, and Dizzydavem to name a few.
6. Landing Page
What is a landing page, and why is it so important? 
A landing page is a website homepage that appears on SERPs like Google or Bing that users can "land" on, so to speak. All good mobile game landing pages should include App Store and Google Play game links, an enticing promotional video, in-game screenshots, and authentic reviews from real players. A landing page is important, primarily because it can help you gather consumer information, provide details to your audience about your game, and solidify your brand. As a plus, with the right SEO, your landing page could appear at the top of a search engine query, which could lead to more exposure.
By far, Pokemon Go's landing page is one of the most comprehensive of its kind. It isn't merely a landing page; it is a place for players to discover trending news, find related trends, view the leaderboard, and learn more about the game in itself!
6. Cross-promotion
One mobile game growth marketing strategy that is greatly effective, yet easily overlooked, is cross promotion. Cross promotion is the act of disseminating mobile game ads onto other mobile games or apps. The main way to utilize cross promotion is through paid in-app advertising, which is particularly effective when you spread ads to audiences playing mobile games similar to yours.
Other examples of cross promotion are collaborating with other developers so that they can promote your game within theirs and presenting ads on other mobile games that you have also developed, both of which can be carried out for free.
Conclusion
As we all know, promoting your mobile game is essential. This is especially true if you want your game to succeed on Google Play or the App Store. However, with the abundance of strategies out there, it can be difficult to know just where to begin. 
Fear not, Appvertiser can help you get started with your mobile app growth marketing efforts today!