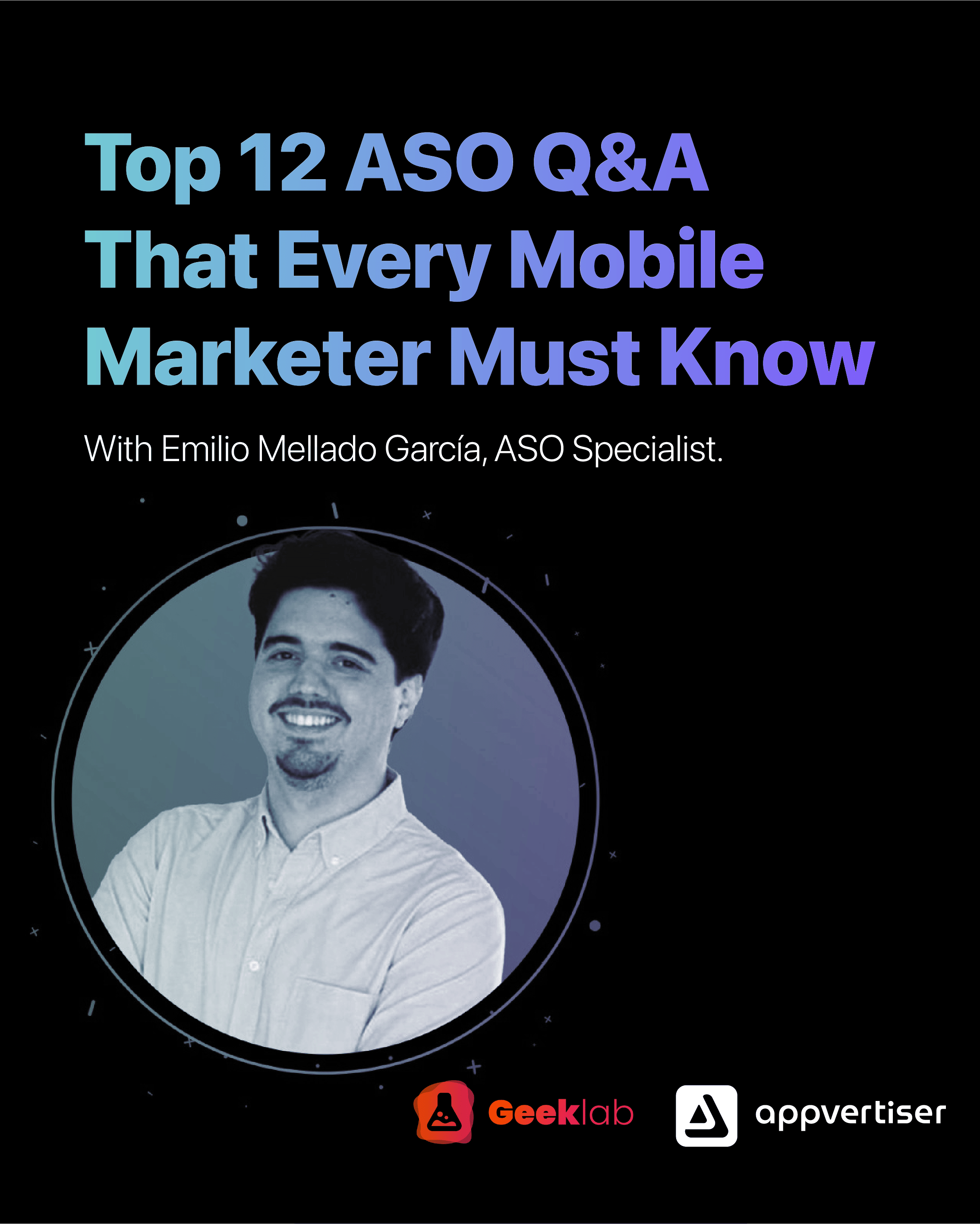 12 ASO Q&A That Every Mobile Marketer Must Know
Introduction
As technology evolves, so must marketing too. ASO, short for App Store Optimization, appeared as a mobile-marketing strategy alongside tech giants such as Apple with its iOS store on July 10, 2008, and Google with its then Android Market, now Google Play Store on October 22, 2008. 
With today's technology-centered world focused on iPhones, Androids, and other hand-held, pocket-sized devices, mobile-marketing strategies are more effective than ever, even surpassing traditional marketing methods such as TV and radio advertisements. The more time that people spend on their cellphones, whether streaming a show or playing a game, the higher the chances that they will browse through the Apple iOS Store or Google Play Store to download new apps. 
Metrics move mountains. Whether you're a mobile game developer or a mobile-marketing firm, metrics matter! From one mobile user to the other, minute details like keywords, ratings, and trends, make or break the success of any app in their respective stores. Don't underestimate the bandwagon effect that app stores and mobile marketers utilize to drive downloads! 
About Emilio
As a way to deep dive into ASO, we spoke with Emilio Mellado García, an ASO Specialist who is currently working as a Customer Marketing Manager at Geeklab. Emilio started his digital marketing career in college working a part-time job as a social media manager. He later transitioned into e-commerce management and participated in in-house and freelance PPC and SEO positions. Later down the road, he moved into mobile marketing which he fell in love with, as its connection to gaming sparked his personal interest and his creative freedom. 
From his various roles, he was able to gain a holistic view of seemingly unconnected issues as part of a larger whole. This broadened perspective has given him the ability to think outside the box and come up with creative solutions for difficult problems.
Now that you've been briefed about Geeklab's Customer Marketing Manager, Emilio Mellado García, let's jump into some ASO essentials!
If you could define ASO in your own words, what would it be?
In my opinion, ASO is a spectrum of different methodologies for boosting an app's visibility in its stores and optimizing its conversion rate throughout its lifespan.
While ASO used to be mistakenly called the SEO for apps, I hope that we are making an active effort to move away from that incomplete definition.
What is the primary goal of ASO, and what are the primary benefits? 
There are two main ASO goals: Visibility and Conversion.
Visibility optimization for your app means appearing when people search for related terms in the App Store, or when they browse certain categories.
Meanwhile, conversion optimization is concerned with boosting the likelihood of people downloading your app after seeing it advertised elsewhere. In the long run, this benefits any company's UA strategy. After all, the higher the CVR, the lower the cost per installation.
With Huawei App Gallery, Amazon Appstore, and Samsung Galaxy Store, the field is getting bigger for ASO professionals. Do you think each professional should get highly skilled in 2-3 App Stores or gain mid-level experience in all of them?
While it is true that Huawei, Amazon, and Samsung app stores are becoming more significant, I believe it is necessary to first understand the foundations of ASO and then apply that knowledge to any store. Ultimately, it is not so much about becoming an expert in one shop, as it is about becoming an expert in the entire field and knowing how the many pieces of the jigsaw puzzle interact with one another. 
When you look at the field from a wider perspective, it will give you the expertise to grasp it and apply it to any store that you want to optimize. You will, however, need to look into the differences in regulations, policies, and requirements for each store in your company's country of origin or the country that you are targeting for your mobile game or app. 
Let's talk ASO tools: What would you say are the essentials, and what are the nice-to-haves for ASO teams?
Here's my list of essential and nice-to-have tools: 
Essential:
AppTweak is an all-in-one platform that offers ASO Intelligence. This is my go-to tool in terms of KWO, short for Keyword Optimization, since they have specific tools geared towards Ad Intelligence, App Intelligence, and Market Intelligence.
A/B Testing Tools

, like

Geeklab

, which in contrast to the native store test, enables you to validate concepts and to experiment with way more metrics and controls in a shorter time frame.

Data.ai 

(formerly known as App Annie): If you're working with games, I would say this tool is a must-have. It covers the scope of granular market sizing and other gaming reports as well as easily compartmentalizes game analytics into class, genre, and subgenre categories.
Nice-to-Haves:
AppMagic is a great tool for exploring trends in the market and creating a custom dashboard for understanding precise details that you might need to dig into.
Storeglide is a tool that breaks down the most popular casual games on Instagram and Tik Tok. This tool may also provide ideas for fresh A/B testing.
Miro is a whiteboard and collaborative tool that is extremely adaptable and effective when brainstorming, strategizing a new campaign, or reviewing multiple experimentation interactions at the same time.
Additional Note:
While not a tool per se, I would recommend that your company consider internally developing your own framework around Player Archetypes. With regards to this topic, we [Geeklab] have recently published an article about the utilization of the model of Quantic Foundry as well as an article about the process of brainstorming, experimenting, and executing the USP, short for Unique Selling Points, of your game which will be communicated by in-store assets.
How do you identify the top direct or indirect competitors of your client's app (e.g., data, research, etc.)? 
In my case, it is a comprehensive process that involves:
Collecting a brief from the client. 
Researching the ranks and performance comparisons between apps and games. 
Searching the new rising stars in the category and genre. 
Finding any new market trends. 
Finding any new social media trends. 
Once I have researched and analyzed all of those factors and come up with a list of competitors, I "score" all of them based on how relevant they are in comparison to my client's game. 
Here's a helpful tip: Remember to think outside the box! Other than analyzing competitors, make sure that you stay aware of games or apps that have successful creative strategies and learn about them and absorb them into your mind as much as possible. Try and experiment with these new ideas and apply them to your specific mobile game or app and see how they perform. 
The iOS 16.1 release comes with new features for App Developers such as live activities and mobile game achievements. How do these changes affect the ASO position, and what will companies have to do in order to stay competitive?
Normally, from what we've seen in the past, staying on top of the new features that Apple releases are recommended in order to acquire a slight lead over the competition. Using the most recent release features boosts a company's chances of being featured, resulting in more explore downloads and a higher category chart rating.
How much time do you think is reasonable for a Product Page Optimization test?
I usually use the same approach that is applied to Geeklab. At Geeklab, we test based on the number of impressions needed to calculate statistical significance. If we only base our test on time alone, we might end up mixing up the right insights with the wrong insights. If we do a test based on impressions, we are able to figure out the number of users needed to check if our hypothesis is valid or not. This way, we can elevate our CVR based on facts and strong results.
In the last few weeks, Google made the Google Play Games beta available for some countries, including the US, CAN, and MX. Do you think that gaming ASO specialists should start considering it in their strategies?
Absolutely! It's definitely worth taking a look at it. By seeing how it works, you can predict what potential you could possibly gain from it. Right now, from what I've shortly seen on the beta, it's just a selection of games, and ranking/browsing is directly fetched from the Google Play Store. Efforts applied in the Google Play Store certainly could be replicated and added onto this new platform. Since it's still very new, we will need to investigate it further prior to implementation in order to avoid working under and applying the wrong assumptions. 
Google Play Store is testing 3 new ad placements, one of them being the possibility of downloading an app from the results page without visiting the app profile. How can marketers take advantage of this?
Apart from the obvious, I think that in terms of ASO, this is a huge opportunity to learn how users will react when they are only presented with the name and icon of your brand. This can help you to build a clear and better USP icon and name that increases your CVR overall. 
There are a few comments of apps seeing crazily positive numbers using "LiveOps." Can you detail what it is about, and how to implement it?
LiveOps are the PlayStore version of Apple's in-app events. Basically, they're cards placed on your app profile for promoting limited-time events, offers, or major updates. With this function, Google Play allows you to boost awareness of your events within the app, offers, and major updates to targeted user groups across the whole Google Play Store. Unfortunately, the registration for this beta is currently closed, so if you weren't able to opt into the beta, then you'll have to wait until the function is available for public use. The end result of this function is to provide an improvement in engagement and monetization, as well as increase the LTV, short for the Life-Time Value, of your users.
Do you have any great ASO success stories in mind that you want to share in order to inspire ASO teams? To which strategies or actions would you attribute your success?
We have a few public case studies that we can share all the details about right now!
Recently, we shared how Fun Craft's success with WordGram is linked to preliminary testing on the concept prior to the official launch. This testing allowed Fun Craft to find the most appealing theme for the app before launching it to the store and releasing it to the public. By using our Product Page Testing Tool, Funcraft was able to base its decisions on data instead of assumptions.

With just three tests using Geeklab's data-driven testing platform, the German company, Popcore, achieved what everyone had hoped for: A significant increase in downloads. With these three tests, there was 3x the conversion! These results were a stunning success. 
Want to Learn More About Geeklab?
Moving on to talking about Emilio's company, Geeklab functions as both a SaaS company and an agency. Combining A/B testing, machine learning, and human judgment, Geeklab's services allow app developers to optimize their products and get more downloads with the right data. 
Geeklab's product, Product Page Testing Tool, enables mobile-gaming marketers to start testing and experimenting with their games from Day 1 of Development. The Product Page Testing Tool only needs a name, icon, and screenshots to operate properly. During the game's development phase, developers are able to measure in a real environment how every aspect of their game affects their target user's CVR, short for Conversation Rate or Ratio. 
Take some time to think about this example: Let's say a company's game developers want to launch a match3 game with a voxel art style but the market trend is Cartoony, then this tool would greatly facilitate the preliminary testing process and phases. Access to this tool allows the company to test what both art styles would look like in comparison to each other and check which style would maximize the mobile game's performance metrics. 
Want to Learn More About Emilio?
A special thanks to Emilio Mellado García for answering all of our questions and allowing us to take a deep dive into the ASO process at Geeklab. If you would like to reach out to Emilio regarding his ASO-related and other career-related experiences, then click here to be redirected to his LinkedIn page to send him a message! 
Want to Learn More About ASO? 
Stay tuned for the latest ASO content at Geeklab's Blog and Appvertiser's Blog including case studies, content guides, and much more! Want to reach out directly to find out more about how your company can increase your app's installs and purchases? Click here to learn more about Geeklab's services and click here to learn more about Appvertiser's services.